Meet Dr. Brian L. Sailor
Chiropractic Physician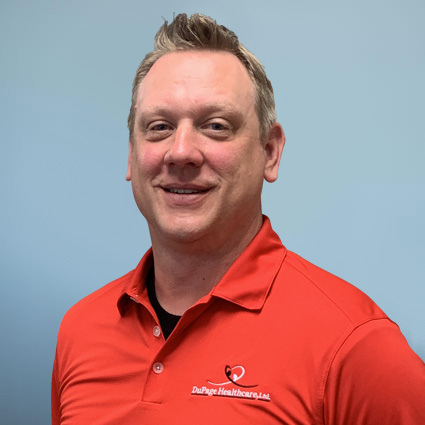 Dr. Sailor is delighted to join the DuPage Healthcare Ltd. team as our lead chiropractor. He has spent 20-plus years as a chiropractor in the Chicagoland area in private practice.
Chiropractic Education
He attended undergraduate at Northern Illinois University in Dekalb, Illinois as a pre-med major. Dr. Sailor graduated from the National University of Health Sciences where he received his Bachelor of Science in Human Biology and his Doctor of Chiropractic in 1995.
A Passion for Providing Natural Care
Dr. Sailor's passion is all about helping people with a natural approach to health care. This approach is in contrast to the allopathic method of masking symptoms with medication. He looks at the body structurally with a focus on posture correction. Dr. Sailor also utilizes chiropractic care to help alleviate pain and stiffness through gentle chiropractic adjustments. He also recommends stretching techniques.
An Active Family Life
Dr. Sailor is dedicated to his family and lives locally in Wheaton, Illinois with his wife and their two children. He played football throughout high school and two years at the college level and has served as a volunteer coach for a local high school football team.
As he was born and raised in the Chicago area, Dr. Sailor enjoys watching Windy City sports, specifically the Chicago Bears. He also likes boating and water sports.
He also has stayed busy running an Anytime Fitness franchise since 2011.
Book An Appointment Today
Contact us today to schedule an appointment with Dr. Sailor!
CONTACT US

Dr. Sally Speaks | (630) 238-8200