Meet Dr. Sally Pepping
Choosing the Chiropractic Path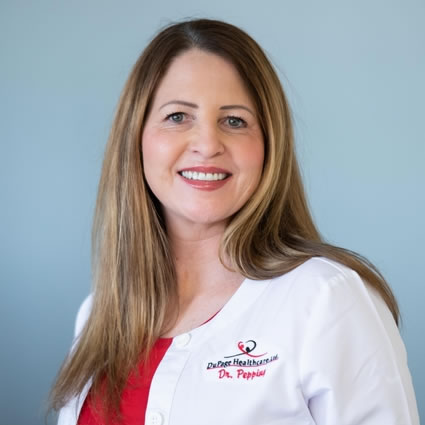 Dr. Sally Pepping, owner and clinic director of DuPage Healthcare Ltd. since 1998, is passionate about improving the lives of her patients and their families. She has genuine compassion when it comes to establishing a personal connection with each patient.
She knows that struggling with any health challenge is hard, but doing it alone is even harder. Her team wants you to know that you are not alone on this journey, and they want to help you return to health, because with your health anything is possible!
Offering Natural Health Care
Dr. Pepping earned a Bachelor of Science from Northern Illinois University and a Bachelor of Science in Human Biology from The National College of Chiropractic. She then studied at National University of Health Sciences in Lombard, Illinois to earn her Doctor of Chiropractic. While there, she worked for chiropractors, including the one she would later purchase DuPage Healthcare Ltd. from. This practitioner taught her several chiropractic techniques, strongly influencing the way she practices today.
She is certified in the McKenzie Technique, a method commonly used by physical therapists to assist with low back problems.
I truly believe God created these incredible bodies to be able to heal themselves. If we take care of our spines, we can be healthy."
Finding Fulfillment Helping Others
For Dr. Pepping, it's always rewarding to make a difference in someone's life, such as when our treatments allow them to resume an activity they could not do when they came in.
"I am most fulfilled when I can make a difference in a patient's life, who first came to see me frustrated and exhausted from trying everything and seeing every type of practitioner with no results."
An Active, Family-oriented Life
Married for over 20 years, Dr. Pepping and her husband have five children. She enjoys spending time with her family, walking her two dogs Tilly and Willow, watching movies, listening to audio books, reading, fishing, boating, and being with friends.
She is a member of our local chamber of commerce, The Illinois Chiropractic Society and Healthy Lombard, helping to educate area children about their health.
An interesting fact about Dr. Pepping: she donated a kidney to her brother.
Schedule your appointment with us by phone or email today!

Dr. Sally Pepping | (630) 238-8200