Meet Dr. Sally Pepping
Choosing the Chiropractic Path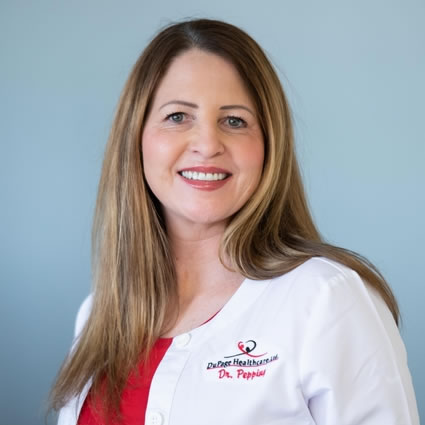 Dr. Sally Pepping, clinic director of DuPage Healthcare Ltd. since 1998, is passionate about improving the lives of her patients and their families. She has a genuine compassion when it comes to establishing a personal connection with each patient. She knows that struggling with any health challenge is hard, but doing it alone is even harder. Her team wants you to know that you are not alone on this journey and they want to help you return to health because with your health anything is possible!
Offering Natural Health Care
Dr. Pepping studied at National University in Lombard, Illinois to obtain a Doctor of Chiropractic. While there, she worked for chiropractors, including the one she would later purchase DuPage Healthcare Ltd. from. This practitioner taught her several different chiropractic techniques, strongly influencing the way she practices today.
She is certified in the McKenzie Technique, a method commonly utilized by physical therapists to assist with low back problems.
I truly believe that God created these incredible bodies to be able to heal themselves. If we take care of our spines, we can be healthy.
An Active, Family-oriented Life
Married for more than twenty years, Dr. Pepping and her husband have five children. She's also a dog mom to a Plott Hound and a Puggle, and is a lover of all creatures who hopes to learn animal chiropractic care one day. Their family enjoys spending time together, and Dr. Pepping likes to read and go fishing.
She is a member of our local chamber of commerce, The Illinois Chiropractic Society and Healthy Lombard, helping to educate area children about their health.
Schedule your appointment with us by phone or email today!

Dr. Sally Pepping | (630) 238-8200