Meet the Team at DuPage Healthcare Ltd.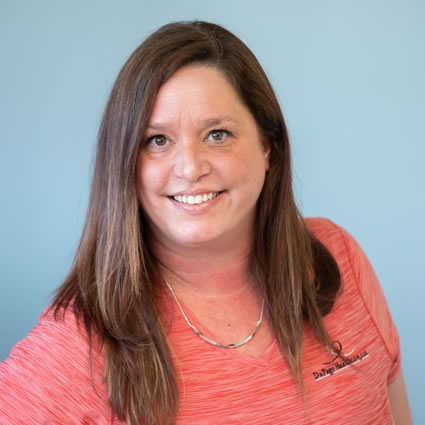 Heather, Billing Specialist
Heather is our billing specialist. It's called a specialist for a reason. She has a unique talent in unscrambling the difficult language of billing and insurance and re-citing it in a way that anyone can understand.
If you want to put a smile on Heather's face, just ask her about her 2 beautiful children.
She has been helping people in the healthcare industry since 2007.
Heather loves to be outside in nature, going for walks, and spending time with her 2 children, and fur babies.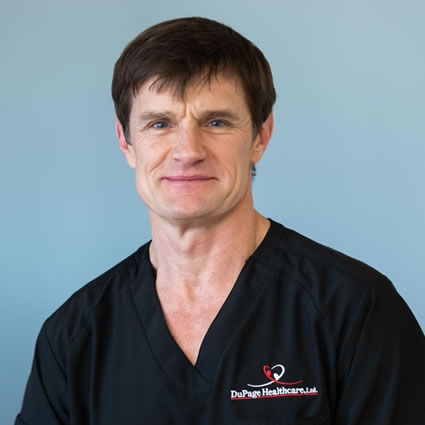 Eduard, Massage Therapist
If experience defines the quality of your work, then Eduard has well surpassed that prerequisite. Eduard lives and breathes the essence of bodywork. He understands and is an example of body, mind, and spirit. He truly has healing hands and a keen ability to know exactly where your dysfunction begins.
His 20 years in the field of massage therapy has gained him valuable insight on what a patient needs and what areas of the body need to be addressed. He is a master in finding the areas that you never knew were involved.
His aim is to improve alignment and function by creating overall ease and balance throughout the entire body. As a structure becomes more organized, chronic strain patterns are alleviated, and pain and stress decreases.
When not practicing his first love of body work, he enjoys playing the guitar, exercising, and reading anything that will expand his knowledge of the human body.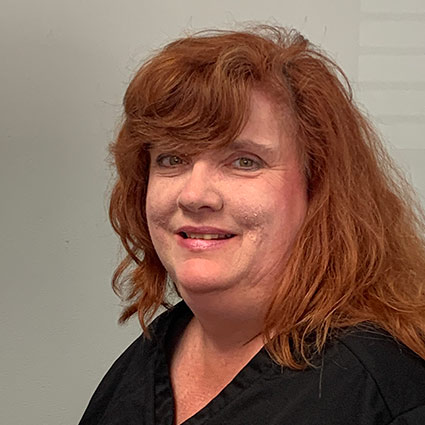 Geri, Massage Therapist
Licensed in massage therapy and a certified stretch therapist, Geri brings 32 years of experience to our patients. She is always pleased to offer professional massage services to clients in a relaxing setting. She believes that a fine balance of soft tissue release and exercise are integral for the body and mind's optimal health and balance. In fact, her message is an epitome of perfection, which is why she wants to clone herself and give herself a massage daily. She adapts every massage treatment to every individual because she intends to create a personalized plan to help people relieve stress, tension, and pain in the muscles. In her free time, she curates romantic novels and partakes in arts and crafts activities, given her knack for writing and reading.
Zephaniah, Case Manager and Social Director
Before joining our team, Zephaniah had never been to a chiropractor before. Once he was offered the job here, he fell in love with this form of natural health care. He enjoys working at DuPage Healthcare Ltd. as he likes to get people out of pain. "As I've grown with the field, I've developed a deep love for chiropractic. My goal is to amplify that here with Dr. Sally and the practice, and widen the scope to help people."
In his case manager role at the practice, Zephaniah verifies all day ones and day twos, and goes over the report of findings and fee information with patients. The social director aspect of his job involves being on Elevate Marketing Solutions to look for potential leads or follow-ups. Zephaniah went to school for kinesiology, earning an associate's degree. He also has gotten certification twice through NASM for personal training.
As for his work experience, he started working in gyms and then went into personal training. Zephaniah also managed a different chiropractic clinic for three years, and worked as a general manager for a massage business. Zephaniah wants patients to know that we also offer massage therapy here.
Welcoming and outgoing, Zephaniah is passionate about building rapport with patients and helping them navigate getting help for their chief complaint. "I want everyone to know that we care about you and want you here."
Zephaniah loves work and when not at the practice, you can usually find him at the gym or at home.
Sabia, Office Manager
In her role at the practice, Sabia handles various tasks. She manages scheduling, sets patients up with plans and packages, works with the doctors to help them in any way they need, takes X-rays when other staff are unavailable, and helps patients with their rehab work.
In 2022, Sabia graduated from Elmhurst University with a Bachelor's in Kinesiology and Chemistry. As she did the pre-med track, she's interested in going to osteopathic school to become a Doctor of Osteopathic Medicine.
One of the most rewarding aspects of Sabia's job is working with patients. "I like to understand where they are coming from and what issues they're having. I try to find what works best for them and help them gain more health."
Sabia has always believed there should be more than one option to health. That's why she chose to work in chiropractic. "When I was younger, my idea of what medicine was was allopathic care. As I got older, I realized people can benefit from chiropractic care and naturopathic care."
What Sabia particularly enjoys about working at DuPage Healthcare Ltd. is it's not a franchise, but a private clinic run by a caring chiropractor, Dr. Pepping. "I like to work side by side with her and get to know why she does what she does."
Sabia is passionate about public health and public policy. Currently, she's interning with Judge Kavita Athanikar, who's running for Circuit Court Judge in the 18th Judicial Circuit.

Meet The Team at DuPage Healthcare Ltd. | (630) 238-8200