Peripheral Neuropathy Treatment
Are you suffering from the effects of peripheral neuropathy?
If so, you're not alone. That's the bad news. The good news is that there is a true breakthrough in treating peripheral neuropathy that may help you to gain your life back again.
Clinical Studies Reveal:
The debilitating pain, numbness and tingling experienced by patients suffering from peripheral neuropathy can be successfully treated without the use of drugs and surgery.
"You'll just have to live with it."
That may be easy to say if you're NOT the one that's been diagnosed with it. We believe that you deserve better when it comes to the treatment of your neuropathy. Too many physicians want to rush you out of the office without really listening and give you yet another pill to mask your symptoms.
As the blood vessels that surround the nerves become diseased they shrivel up which causes the nerves to not receive the nutrients and oxygen to continue to survive. When these nerves begin to "die" they cause you to have balance problems, pain, numbness, tingling, burning, and many other issues.
Overweight
High blood pressure
Diabetes
Toxin Exposure
Chemotherapy
Radiation
Kidney disease
Trauma
Alcoholism
Breakthrough for Peripheral Neuropathy Sufferers!
Dr. Pepping will take your condition very seriously, as we believe it is critical to prevent the balance problems, falls, and fractures that neuropathy can cause. We will sit down with you to determine if you are a candidate for this groundbreaking treatment, and review all of your options. At DuPage Healthcare Ltd. we like to think that we combine the newest and most cutting-edge technologies with good old-fashioned patient care.
I was unable to sleep at night because my feet were on fire. Even the touch of the sheets was excruciating. I started to lose my balance and my kids were scared for my safety. I started to isolate and become depressed. A friend told me about DuPage Healthcare's Neuropathy program and it has changed my life. I have cut my medication in half and able to get out of the house to see my grandchildren's sports and I can sleep again!
– Karen S.
I was told by my neurologist that there was nothing I could do about the pain and pins and needles in my hands. Because I use my hands for a living I was not willing to take that as my final answer. After 30 days of DuPage HealthCare's program I can't believe the results. I am happy that I did not give up and my advice to others is to make and appointment, you have nothing to lose.
– John P.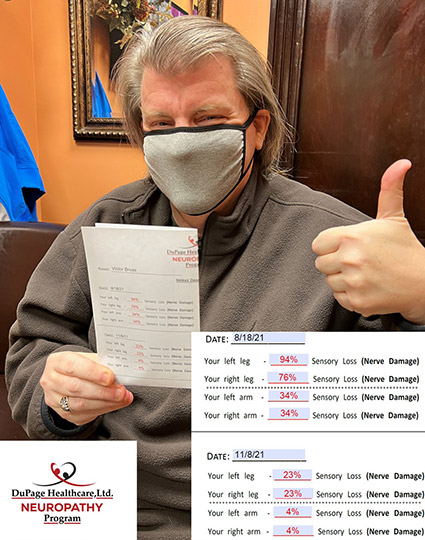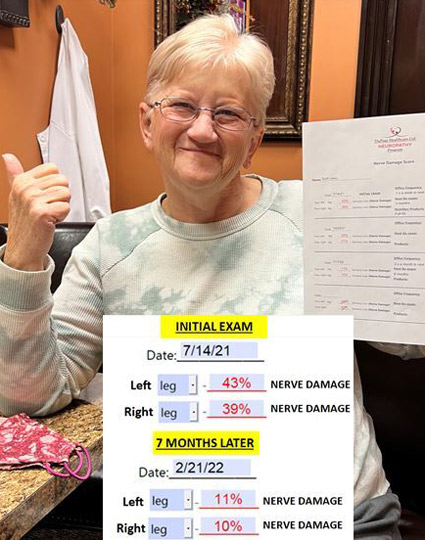 Ready to Start Your Peripheral Neuropathy Treatment?
Contact us today to make and appointment.
CONTACT US

Peripheral Neuropathy Treatment Glen Ellyn, Wheaton & Lombard IL | (630) 238-8200