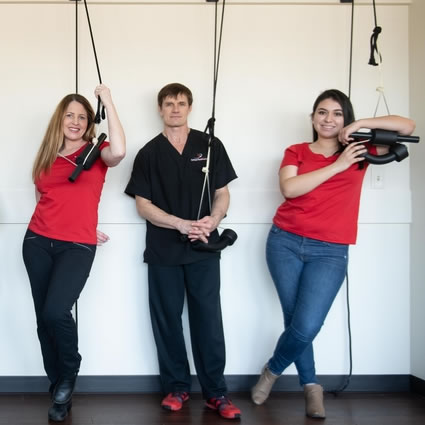 DuPage Healthcare Ltd. Reviews
What Our Glen Ellyn Patients Say
At DuPage Healthcare Ltd. we love when patients share with us their feedback and comments after chiropractic care. Please read our patient testimonials below to see what other people have achieved through their tailored treatment plans with us.
Share your stories too! Click here to send us your feedback so that we can help to spread the word about the benefits of natural DuPage Healthcare Ltd. care.
For more information, or to schedule an appointment contact us today.


I'm Still Amazed
Last week, I think it was Christmas Eve, I was doing dishes and while ringing out the washrag I noticed I was using my whole left hand, squeezing all fingers equally where as the small finger and the ring finger never had the strength or feeling to do that since my AVM rupture 40 years ago – November 23, 1979.
I knew the area of the brain controlling that was suddenly working because I was getting more feeling. Obviously I was elated. That was at night. The next morning we took our usual walk along the river. When I first walk out of our neighborhood I walk up a gradual hill for a few blocks. I noticed my left foot was gripping fully as I was walking up the hill, which made it easier. Then I noticed why. I looked down at my foot as I walked and it was straight forward like normal. So I was amazed again. (You're the only person I have told this to.)
It's been almost a week now and I'm still amazed by so many changes going on in me it's hard to explain. I noticed my sleeping is much more sound and I feel a lot more self-confident and at ease about everything especially what the future shall bring etc.
Good night and take care. Thank you for all of your support and have a Happy New Year…I sure will.
– Jack W
Back Pain Relief
I have suffered mid to low back pain. I work a desk job and I found it difficult to sit for long periods of time. I also found it increasingly difficult to exercise and play golf. It took a little longer to complete chores as I was trying to be extra careful while bending.
I now still take regular breaks to stand up and stretch and walk around. However, it is not due to pain or discomfort anymore. Exercise has become easier and my back and I continue to work on core strengthening and weight loss to ease the back stress. Chores have also become easier as I am not constantly worrying about the back pain holding me back!
– Brian K.
A Healing Process
I was unable to turn my neck while driving before I began corrective care at DHC. I also suffered weakness in my right hand along with constant lower back pain. I sit at a computer all day. This caused me to be in extreme pain by the end of the day. I was very tired by the time I arrived home from work. It was painful to walk or bend. Chores were a painful task and my home suffered because of it. My pain affected my relationship with my family, as I was too tired to spend time with them.
Now I have learned proper stretching and techniques to prevent and alleviate pain while sitting at my computer. My house is clean again and I can enjoy long walks with my husband. I have more energy to spend time with my entire family. Physical therapy helped alleviate the pain and taught me proper stretching exercises. Massage was therapeutic and helped work out the knots. My regular chiropractic adjustments were HEAVEN SENT in the healing process!
– Christina Z.
Improved Health & Relationships
My initial symptoms when I began visiting DHC were: tightness in my neck and shoulder area. I also suffered from carpal tunnel, hip pain and chronic headaches. Before beginning my treatment my symptoms affected my ability to perform my regular job duties. I was unable to get my body into proper positions. I also carried fatigue midway through my day. I was not motivated to join in on any sports with friends. I was also unable to reach areas that should have been easier to clean. I didn't have a good range of motion in my neck. It also affected my mood. I often felt cranky and irritable.
Now that I have taken action in improving my health, I am able to retain posture longer at work and am slightly more energized. I have increased range of motion even though I am still short, I have found I can now reach cupboards a lot easier! My relationships with co-workers, family and friends have improved as well… at least most days ;)
Along with my massages, chiropractic adjustments and physical therapy, I also received trigger point therapy by Dr. Houde. This therapy helped in conjunction with the above treatments to relax my muscles in my shoulders and neck making my massages and adjustments even more effective!
– Elizabeth M.
Pain Free
My initial symptoms included lower back pain and headaches. While working, I had pain while sitting for long meetings. At home, I had to limit my type of workouts. I decreased my overall activity level. Daily tasks that included caring for my children became a struggle. I was extra crabby because of the pain, and it frustrated me that I was unable to be more active.
I am now pain free during the days and can run around with my kids, as a stay home mom. I am back to working out 4-5 times a week and I can keep up with the care of my VERY active kids. I am a much happier person to be around because I am able to be active. My weekly massages helped keep me flexible and my adjustments took my headaches away!
– Erin L.
Knee Pain Relief
Upon my first visit at DHC, I suffered from inflammation and swelling severely in my left knee. I had a slight limp with my walk. Before I started the Hyalgan injections and chiropractic manipulations, I couldn't do any cardio exercises. I also couldn't sit for long periods of time as my knee would stiffen up just by staying seated!
Now that I am healthier, I can participate in my regular recreational activities such and working out much more! The Hyalgan especially helped alleviate my swelling and pain in my knee along with the regular chiropractic appointments. It also helped make my knee feel "looser".
– George H.
Caring Staff
I was in an accident 36 years ago that caused a brain injury and left me paralyzed on my left side. I started DuPage Healthcare after experiencing low back pain.
I was pleasantly surprised with how professional, knowledgeable and caring the staff was. Dr. Pepping recommended me to come in three times a week for eight weeks. I also started physical therapy in addition to my adjustments.
I now feel wonderful! Just recently I realized while washing my hair in the shower I was using my left hand instead of my right. I haven't been able to do this since before my accident. I am also sleeping over 8 hours straight!!
I have already told about 4-5 friends and family about my positive experience with DuPage Healthcare.
I forgot to tell you that after 3-4 weeks after starting the spinal molding kit, I noticed that when I'm walking or sitting my hips have shifted and is making my posture better. I even was able to walk in a short sprint with ease. Thank you Dr. Pepping.
– Jack W.
Able to Exercise
My initial symptoms upon starting treatment at DHC were shooting pain in my knees. It was extremely difficult for me to bend. I also couldn't participate in my regular exercise routines.
Thank you to Dr. Houde for the Hyalgan injections. I can walk with less pain and I am able to exercise. Also, I keep up with my weekly chiropractic services to maintain the progress I have made!
– James P.
Much Happier Person
My initial symptoms when I first started treatment consisted of a stiff neck, stiff shoulders and stiff gluts. Being a teacher, grading papers and doing work on my computer was painful. As far as recreation chores went, I could not lift weights or run for long periods of time.
As far as work goes now, I can do my work for longer periods of time! I am now working out 3-5 days a week! I was able to train for and run a half marathon! I am a much happier person now! I also had kenisio taping done in PT. It helped with my shoulders, knees and gluts! I also recommend the neck and low back stretches!
– Jenna C.
Highly Recommend
I was suffering with intense low back pain for over a year due to an accident. At times I was at a 10 in pain that was also affecting my legs. I was getting shots in my lower back that were not giving me much relief and caused a lot of burning.
I heard good stories about Chiropractic and thought I would give it a try.
Within three weeks of adjustments, therapy and the roller table I was feeling really good! I was able to get out of bed and move around a lot easier.
I would highly recommend anyone that is experiencing any pain or discomfort to see Dr Pepping and the staff at Dupage Healthcare.
I hope to return to work soon.
– Richard M
Life is Good
When I arrived at DuPage Healthcare Ltd. I was unable to walk up or down stairs without utilizing both handrails. I could not put on my socks without grasping my legs to bring them closer to my body. I could not remove or place items on anything higher than my shoulders. Although it may be difficult to believe, I could not even open anything with a Velcro fastener. I was in constant pain…my neck, my shoulders, my back, my feet. Some days were more excruciating than others, but the pain was persistent and chronic, having been my despicable companion for over 31 years.
I began seeing Dr. Pepping and her staff in late March 2017. After two weeks of receiving massage therapy and chiropractic adjustments (and doing my home exercises) I was able to walk the stairs without using both handrails. I had improved range of motion in both my arms and legs. I was actually able to open my dog's Velcro diaper fastener without my teeth! To me, this was all a miracle. None of this was possible since the latter half of 2010.
I am now more than 10 weeks into my treatment. My pain is nearly non-existent and I marvel at being able to perform activities I have been unable to for 7 years. I no longer use handrails to get up or down the stairs, I lift my arms and legs with ease, and Velcro is no match for me! I feel the normal aches and pains from exertion which has allowed me to return to the gym. I must say, life is good.
Dr. Pepping and her staff are amazing! They are truly a blessing in my life.
-Sheri J.
We Can Help You Too
Dr. Pepping would love to help you live pain free. To learn more about our practice and to get started, contact us today. We look forward to meeting you!
CONTACT US

DuPage Healthcare Ltd. Reviews | (630) 238-8200